Kids dig worms! Fifth graders at Apple Blossom School learned all about vermiculture (worm composting) from Council conservationist Stefan Stehling on Monday, November 14, the day before America Recycles Day, a presidential proclamation urging Americans to reduce their impact on the waste stream. Following up on efforts by our partnering Compost Club's success in local schools, the Council highlighted the efforts at both Apple Blossom and Orchard View schools. Composting first started at the schools with the effort of Rick Kaye, who founded the Compost Club.

The Apple Blossom system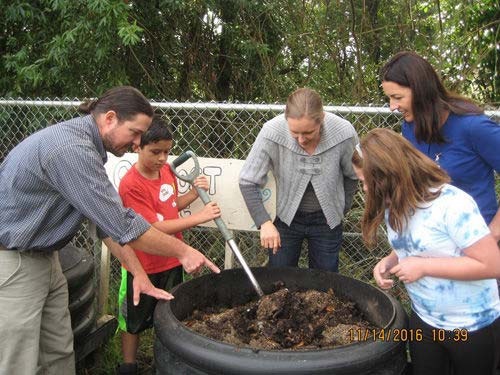 was put in place by the Compost Club nearly 10 years ago and was refurbished by the club two years ago. At the time, Kaye worked with teacher Sunny Galbraith, who ensured success of the project at both schools. Galbraith was also honored as a 2015 Teacher of the Year by the Sebastopol Rotary Club for her work with these programs.

Oona Heacock, Council lead conservationist, explained that the students learn in a classroom about waste—what can be and cannot be recycled. In our "Recycling Changes Everything" presentation, the students start with a trash mixture to sort what could be reused, removing recyclables and compostables. On November 14th, as well as at dozens of other schools, Stehling informed students about wastes, and the impacts f waste disposal, pointing out that small, local steps are important—everyone can make a difference. In the session, students form small groups to determine (and debate) which garbage items were recyclable and which ones were compostable.

In the November session, two students in the classroom then gave a demonstration of the steps for recyclables, compostables and foods appropriate for worm bins, and have an opportunity to work directly with the school=wide bins in place at Apple Blossom as nature takes its course and worms chomp up the waste to form rich garden compost. Stehling said that for some students, it's the interaction with nature that is most important and that the program engages the students in a different way than other studies. "It might be the first time a student has touched a worm, or dug through soil," he said. "Just seeing the diversity of life and what's going on in the garden, it's really powerful."

Rick Kaye reports that In the original program's first year, with just one school, the Compost Club helped to divert 900 pounds of waste. By 2014, with 20 sites, they were diverting 72,800 pounds of garbage from the waste stream. The schools are then able to sell compost, earning money for garden projects and other needs.